60. Great Sea Trench (

Final Fantasy V

)

The Great Sea Trench is a place at the bottom of the sea you must visit to obtain the third tablet for the Sealed Castle. It isn't that much different than any other dungeon in the game, apart from its unique inhabitants.
All of the enemies you encounter down here are undead, attack with a myriad of status-inducing moves, have gruesome sprites not shared with any other enemies in the game, and none of them
even have names
.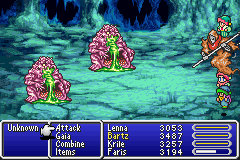 What the hell are they?